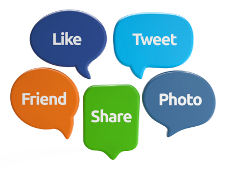 Whether you're a writer, an author, or a small business–you may have wondered if spending time on social media is worthwhile.
My answer to that is a qualified yes.
Social media is worth your time, but only if you use it wisely. Unwise use of social media adds just another time-consuming task to your already busy day. As I've discussed before, many businesses make mistakes with their social media use.
In this post, I'll share 12 important reasons why I think social media is worth spending time on. I'll also add a few tips on how to use it effectively for business.